Stuck at Heathrow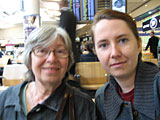 Mom and I are on our way home from Denver. It's been a long journey. I had trouble sleeping on the transatlantic flight (Chicago-London), and mother didn't sleep at all. Some 35 minutes late we reached Heathrow, where we accidentally ended up at the wrong terminal for our connecting flight.We had to go through security which took a long time.
There I spotted Uffe – or his unknown twin – putting his jacket on the belt. Didn't catch up with him though.
Once we got through security we didn't have much time, and we had to get our boarding passes. The company we were flying with was British Midland, so we went to their desk, but they told us this specific flight was operated by Lufthansa and that we had to go wait in their line. It was getting closer and closer to our departure time. When we finally got to speak to the Lufthansa people they pointed out that we were at the wrong terminal and that we would miss our flight. Further, they directed us to American Airways' counter. Exhausted we waited in yet another line, and then finally got new tickets (I guess American was responsible for the whole trip since our previous two flights had been with them). The tickets were for Scandinavian Airways four hours after our original flight. She told us to go to SAS's counter, which was in Terminal 3, so once more we had to get on the transfer bus and go. Once there it went smootly. Nobody could explain why we had to go through four different airline companies to get our boarding passes though. 
Giggling from fatigue we sat for a while in the main area of the terminal before I decided I need a beer and some place more comfortable to sit. So we ended up at a small brasserie called Chez Gerard, where I am writing this. We've been up for more than 24 hours and my internal clock is all confused.
Update: It turned out it was indeed Uffe's unknown twin I saw – since he had been at home in Sweden.