The Running of the Tubs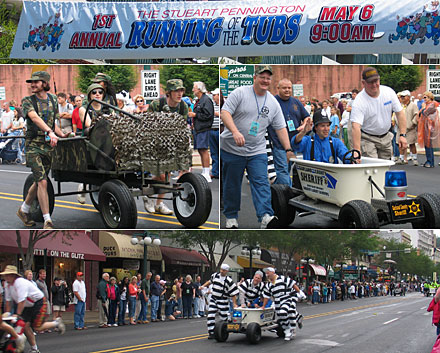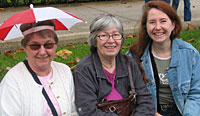 It's our last day in Hot Springs, and we're heading into town to watch the Running of the Tubs, a race where different teams participate, dressed up and with carriages consisting of a bathtub on wheels. The tub is to be filled with water, and there should be atleast one person in it.
Yesterday evening we went for Gallery Walk, a monthly event when all the art galleries in town are open late and you are invited to come and look at what's on display. Also they treat you to different kinds of snacks and drinks, and sometimes live music. Many of the featured artists are there so that you can meet them and ask them about their art. Jim and Gloria who are friends of our hosts had work on display. We met them the other day and got to go for a boatride on the lake in their boat. Nice but a bit scary – neither mother nor me are boats people.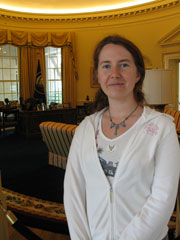 Barbara and Carl have really gone out of their way to make this a pleasant stay for us. They've taken us to the Clinton Presidential Library in Little Rock – very interesting, he seems like a good guy -, to Garvan Woodland Gardens where Carl does some volunteer work – a lovely garden, very lush – and Barbara went shopping with us for a whole day. She's more or less devoted her whole week to us, and she also gave us one of her photographs each (she's an arts photographer).
The one thing we've missed doing is to take the baths (because the shopping took too much time). But we did get to see one of the old bathhouses, since it houses the visitor center and also has been converted into a museum.
New animals: bluebird, blue jay, brahmin cattle, a turtle, kingfisher, possum (roadkill)
New food: Southern boil (casserole with spicy sausages, shrimp, potatoes, onions, garlic and spices), corn bread, different cheesecakes
Update: The bathtub race was, as Barbara put it, true American silliness. Lots of fun. My favourite team was dressed up as cows. I'll vlog the event, but that will have to wait a couple of weeks (when I get back to Sweden).