Asia planning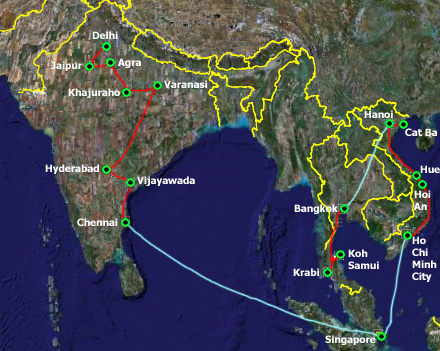 The plans for my Asia trip are taking shape. Parts are still pretty unsure, especially India, but in all I am starting to visualize it. I'll start out in Delhi, and if all goes well I'll meet P and family a couple of days later, and travel to places like Jaipur, Agra, Kharjuraho and Varanasi. Not necessarily those places. Not necessarily in that order. But something along those lines. Then we'll head south to Hyderabad and Vijayawada. And three weeks on I'm going to Singapore from Chennai.
In Singapore I'm meeting Gitta, and we'll stay with friends of hers for six days. Then we fly to Ho Chi Minh City, Vietnam. From there we'll travel north by train, stopping in Hoi An and Hue before going to Hanoi. If we have the time we'll go on an organized trip to Cat Ba Island. Yesterday Gitta and I met with Susanne, a friend of Gitta's who has travelled and worked in Vietnam. She recommended we spend more time in the northern parts than the south.
We have ten days in Vietnam. After that Gitta returns to Singapore, and I'm flying from Hanoi to Bangkok where I'm meeting K. We'll stay one night in Bangkok before taking the train, bus and ferry to Koh Samui. We also plan to go to Krabi. We'll see.
The whole trip is 7,5 weeks, and I'm flying home from Bangkok.
Today I got my travel books – Lonely Planet's India guide, Lonely Planet's Thailand guide and Rough Guide to Vietnam. I realized I won't be able to bring them all. Waaay too heavy. :-/ I guess I'll have to write down the key parts.