Citizen media or citizen nonsense?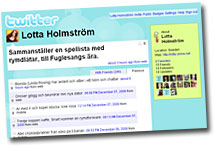 I decided to try out Twitter, a bit inspired by Jonas who talked about how fun it was to get people's updates on what they were doing as text messages to his phone several times a day. I can't say that that made me super eager to try it out, but there I was, an invitation in my inbox, and why not?
Now I'm hooked and I still think it's nonsense. I get notified when my friends have a cup of coffee, take a walk in the rain, do their laundry and whatnot. I send them completely uninteresting details about my life. And I can't figure out why it's all such a blast.
We are simple beings. We want to be noticed. I guess that's it. And here's yet another form for it. At SIME we were told that it's not web 2.0 that's here, it's humanity 2.0.
I'm starting to think it's Ego 2.0. Though mostly in a positive sense. Like never before, the net offers us ways to express and define ourselves. And also to connect and network – who we choose to be friends (or "Friends" – they might not be friends IRL) with also defines us.
Much of what people are doing online isn't serious. That's what big media companies see, and that's where they go wrong in their reactions, shunning away from it.
Fooling around, playing, communicating without being dead serious, those are all expressions of the creative mind. And that creativity is what makes up citizen media.
Today I've published a bunch of photos of Aftonbladet's readers' gingerbread cookie houses and of other Christmas decorations (especially note Martin Ekequist's gingerbread version of Discovery – wow!). We love to be creative and we love to share – and to get noticed when we do something well.
Twitter is interesting since it turns the cellphone into a mass medium on a grass root level. Though most of my Friends on Twitter also know eachother, so that we all get eachothers messages, we are not chatting, only reporting. It's one way communication though we are all senders of it.
Like so many services, Twitter also has a little widget you can put on your blog, showing others your latest whereabouts.