Polar Rose creating some buzz
Swedish photo/video face recognition search tool Polar Rose has got some attention in the States. Most recently on the front page of Red Herring, this article on CNN and a TechCrunch post by Michael Arrington that got some sceptical comments and then replies from Polar Rose representatives.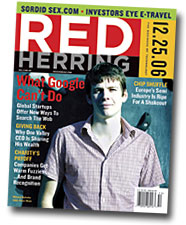 At Sime, we got an interesting presentation from Polar Rose CEO Nikolaj Nyholm (seen to the right on the Red Herring cover). What makes Polar Rose different from old school image search engines is that it works from a 3D model of 2D images.
Nyholm showed how you could take a picture of a beautiful woman you found on the net and see if you can map it to photos on online dating services. If you're out of luck, then you could widen the search and look for other women who look somewhat like her.
To make Polar Rose really useful, you need to download their software. It's a browser plugin that lets you tag photos on any web site.
Polar Rose founder Jan Erik Solem writes (in the comments):
Look at how visual the web is becoming. Try doing an image search for a person on your preferred search site. What you'll most likely get is some photos of the person you were looking for and some not even close. Most likely there are even more and better photos out there without labels/text/metatags which you'll never see. Look at the long tail of web photos (yours and mine) and you'll see lots of photos that are unsearchable.
So what's the social media use for Polar Rose's technology? Well, it provides a tool for connecting photos within and across websites, for grouping photos based on their appearance instead of their context or tagging. You could find out how you are presented on the web in more detail. And, well, the dating site example might be useful for some.
Jonathan at Swedish blog lab:kloud9 writes:
there is a connection here to social media (and possibly the FBI/CIA) and any time we can make the web more sortable, I'm all for it.
Others raise concerns about privacy, like commenter Akaishi on Tech Novelty:
"It occurs to me that this could be used to do things like identify the past lives of witness protection program participants. Are the ethics of it even under consideration?"