Placeblogger – a new hub for hyperlocal blogging in the States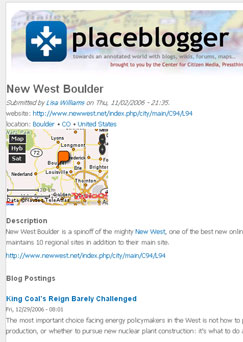 A new site covering local and hyperlocal blogs has launched. Placeblogger.com is presented by Dan Gillmor's Center for Citizens Media, Jay Rosen's PressThink and Lisa Williams' H20Town.
The site defines a placeblog as "an act of sustained attention to a particular place over time". It's not necessarily citizen journalism, but rather can contain what they call "random acts of journalism".
"Placeblogger.com's goal is to serve the community of placebloggers", said Lisa Williams at a presentation at The Berkman Center at Harvard.
She wants to make it easier for placebloggers to find eachother, among other things by using geotagging. The site also provides OPML readinglists for each country (there are a few placeblogs listed outside the US, but they're not many), state and city.
Each blog is pinned to a map, has a short description and a few lines of the most recent posts.
There's a Yahoo Group and mailing list connected to the site.
It's also a one stop shopping for people who are interested in citizen journalism in the United States. You can actually see, instead of just theorize.
Here's more of what Lisa Williams had to say about Placeblogger in the video clip from Harvard:
Lots of people talk of citizen journalism and hyperlocal media. This is what I think a placeblog is. A placeblog is about the lived experience of a place. I think that's a useful definition, because when we talk about these sites as citizen journalism, it's very easy to go to even the best of these sites, take a look at it for 15 seconds, say "what a crappy newspaper" and hit the Back button.
And that's because most of us are extremely fortunate. Our lived experience of the place we live in when we walk out the door is not news. And if it is, one of two terrible things have happened to you. 1) you have become a celebrity, which is awful, or 2) you live in warzone.
For most of these places where they live, they are talking about lived experience of the place. And, sure, there's news in that, random acts of journalism. But they're also talking about what it's like to live in this particular place and talk to these particular people, eat somewhere and take the bus somewhere.
I think that the relationship between placeblogs and newspapers is that the newspaper publishes the slice of the lived experience of that place that is newsworthy.
I checked out the five blogs about Boulder, CO. One thing that would have been cool would be a combined rss feed for all of them, showing the different posts sorted by date rather than by blog, which would be the effect if I added them to a Boulder folder in my RSS reader.
Update:
A similar site (?) in the making seems to be K. Paul Mallasch's Local journalism.net. Not much info there yet: "This is a project I've started to keep track of specific examples of local journalism (aka citizen journalism aka grassroots journalism) websites. Stay tuned for more." Though the tagline seems to imply it's more of a corporate initiative: "Your Guide to Citizen Journalism Startups"