Media shift and the new blog portal
After a few hectic days at work, I am far behind both blogging and reading blogs. One reason is pretty exciting though. Yesterday aftonbladet.se celebrated being the largest news medium in Sweden, which we celebrated with a seminar and party.
Yes, the web edition is larger than the paper edition, and larger than Metro (measured in number of readers per day). That's a significant shift. And a tremendous challenge for me and my colleagues. And I think that providing tools for our readers to become participants is essential if we're to stay in the lead.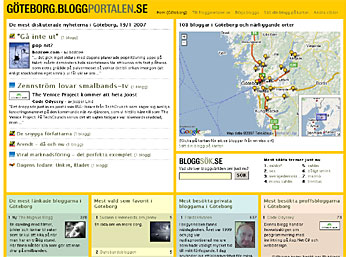 The other exciting thing at work is the re-launch of Bloggportalen, Aftonbladet's blog portal site which no longer is simply a catalogue. The new version has a number of new features, including a toplist of most linked-to blog posts, blogs and news stories, local editions with maps of where the bloggers live, and the most recent blog posts displayed in each category. From my perspective, it will be a great tool for finding related links from the blogosphere to news stories, and also to find fresh ideas of what to pick up at Läsarbladet, where I frequently link to blogs and blog posts.
Sigge has all the details, though in Swedish.