One more tv channel launches video clip site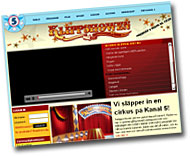 Everybody just has to have them, it seems. Social media in the shape of video clips from our fun everyday moments are hot. The next big media site to take the step is Sweden's Kanal 5 (channel 5), who now have announced that Klippshowen is live on their site, and that it will be coupled by a tv show starting March 5.
I'm not sure if there's a problem with the site or if I lack some plugin, but I'm not getting the videos to load.
From the titles and the presentation though, I can see that the focus is on "crazy clips". This seems to be the trend on most of the Swedish short clip sites. While it's understandable, I wish we could see more diversity. I for one would love to see more art videos, short interviews, local coverage and people trying out the program format for creating their own home video shows, to name but a few areas for social video media.
(via Beta Alfa)