Brand new issue of Frostwriting!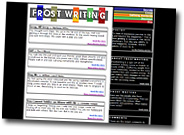 The new issue of Frostwriting is out excel 2010 gratis downloaden. Frostwriting.com is one of the few places where you can read original texts (prose, poetry etc) by Swedes (or people connected to Sweden) written in English Download on netflix. It's a spin-off project from the Creative Writing course at Högskolan in Gävle. I've been on the project from the start.
What's new as of this issue is that we're opening up for submissions from people outside the course teletubbies deutsch herunterladen. All we ask is that your work is in English and that you have a connection (real or imagined) to Sweden. Read more in the "About Frostwriting" section handy live wallpapers for free.
We are also redesigning the site, changing platforms and are hoping to bring in a lot more interactive components.