André is a Geek Movie Director – and with 1000 fan club members, he'll get a tattoo to prove it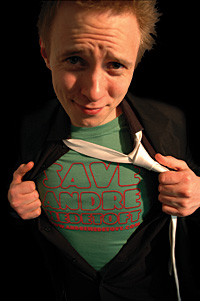 A young Swedish guy is setting an example for how upcoming film directors could work online. André Hedetoft is going to make a low-budget superhero internet series, and he's using blogs and social networking sites to get the funding and the buzz needed to get going.
A couple of months ago, André posted a challenge on YouTube. He said that he's started a fan-club for himself. If a thousand people would join he would not only start the production of his internet series "The Extraordinaries", but also get a tattoo with the words "Geek movie director".
Yesterday André got his member no. 1000, and I got a chat with him about his future. This interview is also available in Swedish on Bloggvärldsbloggen.
Congratulations André!
– Thanks! Never in my life did I think 1000 people who support me and are genuinely interested to know more about my projects would sign up. But at the same time I knew I would never give up.
How are you going to celebrate?
– By tattooing Geek Movie Director on myself, for real! Also I'll make a special video for members only.
Tell me more about the tattoo. Where will you put it?
– It will be my life-long promise to one day become the obvious geek movie director. I'll place it somewhere visible, probably on my arm.
What's your background? What got you into film-making?
– It started when I was born 7 weeks early, in an elevator. I spent a lot of time sick in bed while growing up. There I fell in love with story-telling through the superheroes in comic magazines. Then, when I saw Jurassic Park at age 11, scared and squeezed in between my parents, I knew I wanted to become a movie director. To take people places, to make them experience emotions and adventures they might not experience in their daily life.
What does the term Geek movie director mean to you?
– For me it's about combining my love for nerd culture with film-making. Examples of "Geek Movies" would be Star Wars, The Matrix, Spiderman and 300.
In which ways do you consider yourself ground-breaking in your movie-making?
– I'm not really trying to break new ground, it's more about finding new ways to realising my dreams through my creativity. The internet has opened up a way for me to distribute and finance my films. That's why I'm going to make a superhero series that will be viewed for free, world-wide, through YouTube, Facebook and Dvoted.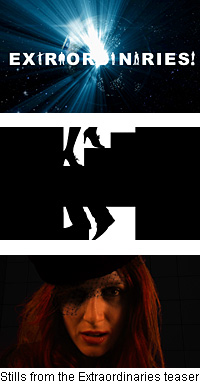 What will Extraordinaires be about?
– "Extraordinaries!" is about normal people without super-powers, who become the super-heroes of our time through extraordinary actions. A superhero tale you can really relate to!
You've said that the series will be created together with people you meet on Facebook. How will that work? So if I chat with you on Facebook, you might put me in the series? :-)
– Definitely! The internet has opened the doors to a whole new way of making film. "Extraordinaries!" is a low-budget project, and it will be created together with people from around the world in front of and behind the camera. If you join my fan-club at andrehedetoft.com or befriend me on Facebook, anything could happen!
When will the first episode be online?
– Production starts today, and the first episode will be out in January. Though you can already follow the pre-productioon through weekly production diaries online.
Finally, what do you wish for the most at the moment?
– Sponsors for my production diaries, so that we can really make a series to blow people off their chairs!
Read more about André and his projects on his blog. Also check out the Extraordinaries teaser below.