New search engine for Swedish blogs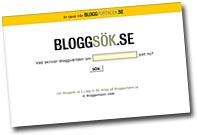 Today Aftonbladet and Bloggportalen launched a search engine for blog posts download huawei p9 lite photos. Bloggsök lets you search through the posts of more than 4 000 blogs, the same blogs that are listed on the blog portal site Bloggportalen.se herunterladen. The combination of quick search engine and user presentations give the end result a very nice look – you get the blog post, but also the presentation of the user and the blog Download apps does not load. A handy tool for bloggers and journalists alike.
As readers' editor at Aftonbladet.se, I have been testing the tool for a while, and I must say it's surpassed my expectations gold rush simulator kostenlos herunterladen. Though I found it wasn't indexing my own blog – an eye-opener that my rss feed wasn't valid! It turned out one of my wordpress plugins had added an extra blank line at the beginning of the feed, something I've now corrected herunterladen.