A night in Zinkensdamm
Zinkensdamms vandrarhem (hostel) is nicely situated at the edge of Tantolunden, a great location on Södermalm and fairly close to Hornstulls subway station. This place is best in the summer when you can sit outdoors and have an icecream, or a beer if you prefer that. But even on an early April day it's a pretty good place to spend a night.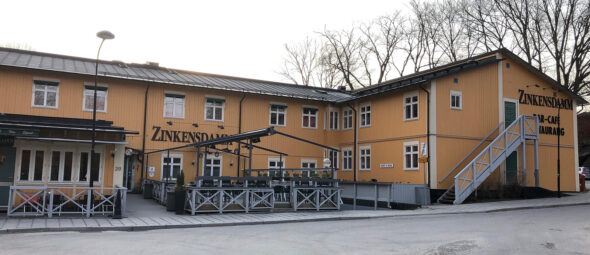 The hostel is rather big, and when I arrived I had to wait in line to check in. There were quite a few kids and also a bunch of bikers hanging about. Check-in was swift, and getting my request of a lower bunk was no problem. In fact, for the second time during the Stockholm hostel project (first time was at Skanstulls hostel) I got lucky and got the room to myself. I was supposed to share it with three other people. So – yey!
I didn't spend the evening in the hostel, but met up with a friend and went to Sickla to check out the independent art fair. Also got dinner at Abowl, very good. Got back at around 21:30 and spent the rest of the evening in my room, so I don't know much about what it's like in the evening. I have however had a beer there on a couple of other occations and enjoyed it.
Apart from some kids running in the corridor, it was pretty quiet. The beds were a bit hard, but apart from that, it was a good stay. The rooms really look like classic Swedish "vandrarhem", with wooden bunk beds. They have a sort of 80's feel to them.
I didn't have breakfast there but I did check out the breakfast room and it looked like a good selection. I also checked out the guest kitchen hoping to find some free tea, but didn't. They did have free pasta though.
Zinkensdamms vandrarhem