Skirting-boards down
The renovation of my kitchen is proceeding slowly. Today I finally managed to get all the skirting-boards off the walls. They were nailed with the kind of long nails that you shoot straight into the concrete, so when I went at them with a crowbar and they let go a lot of concrete let go as well. Luckily 2mU has promised to help me patch the holes with some concrete.
Here's what it looks like at the moment. A big mess. :-)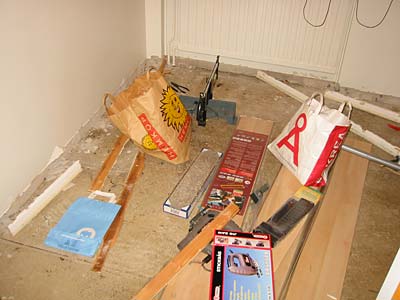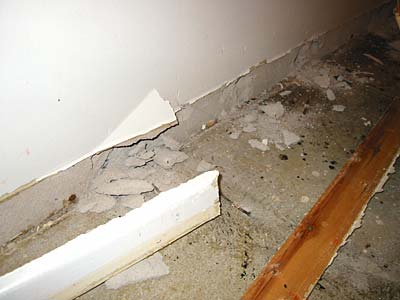 Christmas was celebrated at mom's place this year too. We brought ham, smoked sheep's leg, salmon and some other stuff. She made the Jansson, cakes, meatball and more.
I gave her a trip to Dublin. We're going in May. Looking forward to it. She had bought too many gifts for me, I think. The thing I liked the best was a bathroom carpet looking like bamboo. Only thing is the cats will have a field day sharpening their claws at it. :-/
I didn't find the cd clock radio I was looking for for K, so he only got a second control for his xbox, and a remote control so that he can use it to play divx's etc without having to use the game controls (and have cords all over the floor).
K had got me a dvd and vhs player. Really nice. We installed it that same night when we got home. Also a couple of books.
A friend of mine is going through a rough time with her boyfriend. They have a lot of conflicting wishes, and it has made me appreciate what K and I have more. And the way we always discuss and never fight about our diffences.
Sometimes I wonder if it's quite normal though… not having anything to fight about. :)