Some comments on Bloggforum 3.0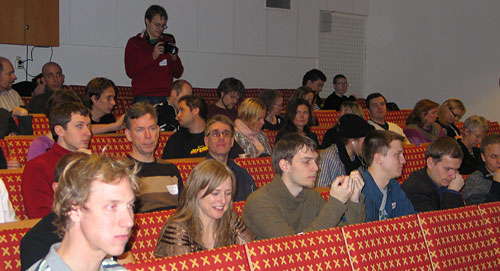 Today was the day for the third edition of Bloggforum, the IRL get-together of Swedish bloggers, now expanded to include some bloggers from other countries as well. The event has developed and become very professional, with some really interesting speakers. It was divided into four sections, and in each section you got to choose between an international speaker and a Swedish panel debate (well, mostly that was the case).
I picked Finnish researcher Jyri Engeström who talked about object-centered socialization, Moz Hussain from MSN Spaces, Ben Hammersley who's a visionary who have among other things worked with the Guardian's blog strategies, and then a panel debate about copyright. The three first were really interesting, but the copyright debate was a bit lopsided by the fact that all four panel members didn't really care much about what the law says, and it took members of the audience to inform others what the copyright laws are really about.
I documented the event using audio, video and photos. The photos you can find here. Afterwards we went to Elverket for a beer, and the discussion there really inspired me to do vlogging and podcasting. So I'll add some audio and video clips tomorrow in separate blog posts.