Minor the Easter bunny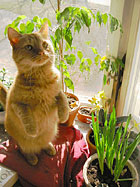 How cute is that? Minor posing as an easter bunny by the daffodils in my window. Happy easter!
I've spent most of the easter holidays packing stuff in boxes, throwing away stuff and swearing over stuff that needs to be gone through. K thinks I'm nuts for wanting to look through old magazines before throwing them away. But I'd like to keep some articles from the IT boom. I think they will be even more interesting to read in a decade's time or two.
Thursday I looked at Henrik Dorsin's one man show (with band) at Mosebacke with K, A and A's sister. I've only seen – and loved – his plays over the years, but this was the first solo thing I've seen. I liked it though it was a bit uneven. But the brilliant parts overshadowed the weaker points.
We went to the movies today and saw Big Fish. Cute movie. Fairytale-ish. I feel I need movies like that as a pleasant escape from reality from time to time.