Notes from a Götgatan café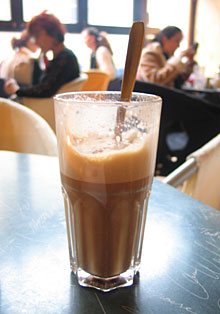 The latte's too strong and bitter but the place is nice, so I still come here. The chairs are comfortable and the tables are decorated with signatures. I can't make them out. Are they random or is it famous people? Is the collection representative of something?
I add some sugar to make the taste smoother. I've been here before, but only once. With Sofie I think, and perhaps Mattias. I don't remember. But I remember it was nice.
I went to Maxim's flee market today, but they didn't have any furniture for my old apartment. I did buy an old hat – probably real fur. Can I wear it without being harassed by animal rights activists? I would never buy a new fur item, but this old hat doesn't promote killing animals for human vanity. I think.
Also a stand for a xmas tree. We might actually get one this year, and if so we don't have anything to place it in. And a nice pyjama from Debenham's. It didn't look like anyone had worn it at all. A find for only SEK 50. Finally two small wooden frames. All in all SEK 110. Cheap, but not what I was looking for.
Benny's going to lend me his inflatable Coca cola couch. I'll drape it with a nice bedspread from Indiska, and hopefully it will look okay. It's better than nothing, anyway.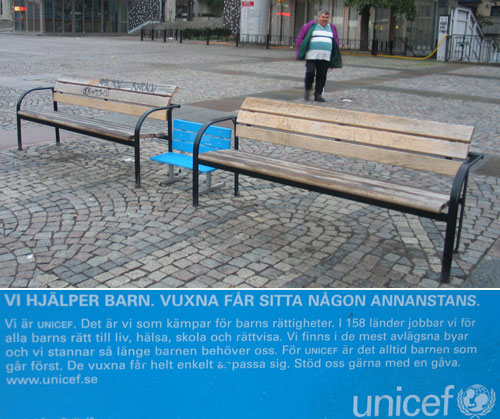 This mini-bench is placed on Medborgarplatsen, and is part of Unicef's campaign for children's rights. The sign reads:
"We help children. Grownups will have to sit someplace else.
We are UNICEF. We are the ones who fight for children's rights. In 158 countries we work for every child's right to a life, health, school and justice. We are there in the remotest of villages and we stay for as long as the children need us. UNICEF always put the children first. Grownups will just have to adjust. Please support us with a donation. www.unicef.se"