Morris on the lookout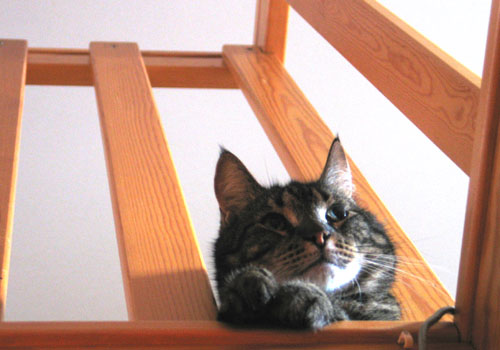 He often looks down from the second floor, keeps track of me when I move about on the ground floor. If I reach for him he thinks I want to play, and is all claws, trying to grab me. I've done that mistake one time too many.
Both Morris and Minor have been very eager to go out the past few days. Today I finally had the time to let them. They take turns – I can't handle both cats at the same time. So first Morris went on his usual round, very disappointed when his usual peeing plant was gone ("libsticka" in Swedish, I don't know the English name for it).
When it was time for Minor to go, she was very hesitant. But once I got her out, she didn't want to go back, and she certainly didn't want to go where I wanted her to. I don't like having to fight her, and when she spat at me I had had enough, and made her go back indoors. We've been avoiding eachother all afternoon.
Archived comments from my old publishing system:
Jinge from Stockholm writes:
Mood 4, thats really ok.. :) But, what a lovley cat-picture !! So "cattish.." :)
M-o-m: 4 – 2004-10-25 9:19