The Pink Ribbon gala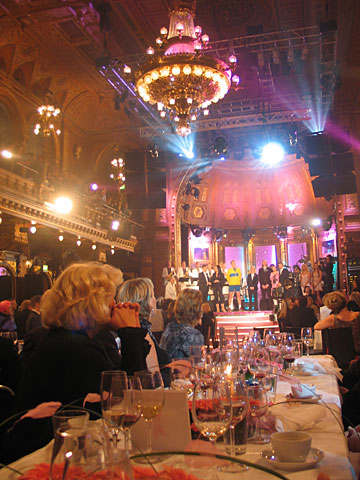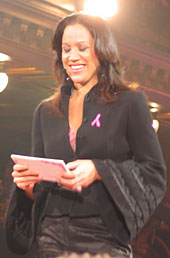 Renée Nyberg did a good job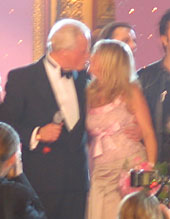 Loa Falkman and Pernilla Wahlgren won the duets' competition
Yesterday I went to the Pink Ribbon gala at Berns, the grand finale of a week long campaign to raise money for research on breast cancer. Aftonbladet's involved in the campaign and has run a series of articles featuring women who have or have had breast cancer. Strong women who are portraited beautifully by Aftonbladet's photographers Sara Ringström and Maria Östlin.
My part in the project has been to package the material for viewing on the web, using flash to combine photos, text and radio interviews. I think the element of sound, to hear the women's voices when they talk about their hard times, adds an extra dimension – they come closer.
At the gala we were seated together with all the women from these articles. They were dressed up, some of them in beautiful corsets made by designer Camilla Thulin.
The food was just okay, but the greatest part of the gala was to see the tv production. The gala was broadcasted live on TV3 by Baluba, Peter Settman's production company. Wherever you looked, there he was, running around, giving directions and keys for camera men, the presenters etc. And in the commercial breaks he did the pep-talks to keep the audience alert and clapping.
I was also impressed by Renée Nyberg, whom I didn't think much of before last night. But she did a really good job, and also was so professional. Never a hesitation, always at the right place saying the right things, looking into the right camera, and at the same time she looked relaxed and natural.
The entertainment was both sports and music. A taped sequence showed a competition between different famous Swedish athletes, none of them competing in their usual event. Then the finale was held at Berns, where Kenneth Andersson did the high jump. It was obvious that he missed the first attempt on purpose to keep up the suspense. And then he made it on the second.
Six artists performed in pairs, like a mini-Eurovision song contest – the views were to vote for the best duet. Loa Falkman and Pernilla Wahlgren won, but none of the performances were very impressing.
More than 16 million SEK were raised for cancer research. That's a pretty good achievement in a country with only 9 million inhabitants.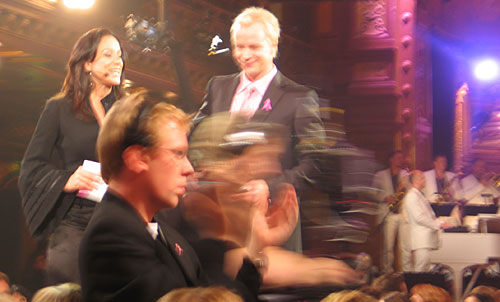 Peter Settman was the real star of the show – for us who were there and saw him in action.