Come to the cabaret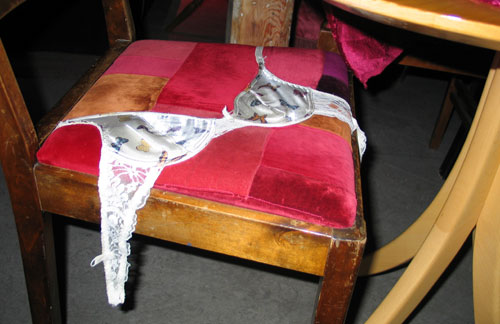 When the Södra Fot cabaret was over, and we were the last ones out of there, this is the image I last saw at Cabaret Fot last night. A remnant from an enchanted and funny evening with a lot of different inputs from talented people.

Sara de Vylder – pretty in pink in her Carola dance
The theme for the night was parts – the parts we play, have played, and never got the opportunity to play.
Anna Sundqvist, Kent Malte Malmström and Hans Granström were the first ones out, performing Jubilarerna, a show with old scenes they've played, songs they've sung and the things they never did – but are doing now. He did an unforgettable ballet – here's a short video clip of when he does the spagat split.
The second act was a contrast, but also very good: The young and talented magician Seth Engström. Cute as a puppy, confident and convincing – and only 16 years old. I recognized him from Marina's writings about a course in magic she took where he was the teacher.
One after another, very different acts went on stage. Before we knew it, four hours had passed, and the show was still on. Stand-up comedy with body illusions, a band called Fröken Underbar(where it turned out my boss' girlfriend played the piano, so he was there too), a Swedish-Turkish musician playing on bagpipes made with his daughter's toy horse as the main part, Stefan Ringbom and a guitar, singing mostly Vysotskij…
And then my theatre teacher, Kent Ekberg, doing his take on the part he wanted to play but never did – being a musician. It took great courage to play the guitar for the first time in 20 years.
Sara de Vylder, also part of the Södra Fot trio, did a wonderful dance, miming to Carola and really living it out. Her dream as an eight year old girl in 1983 was to become a singer.
The parts we never played. I don't want to name one. I want to feel the options are still available. If you decide they are not – then they are not.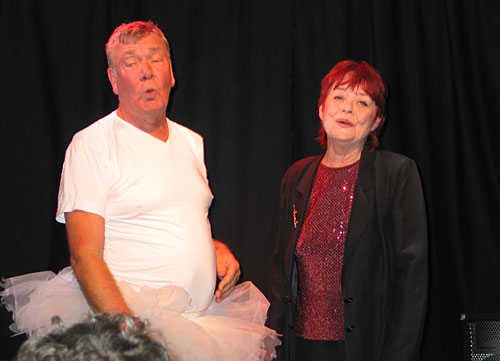 Anna Sundqvist and Kent Malte Malmström