Why the hell are COY not signed?
Tonight I went to an event at Mondo called Why the hell are we not signed?. The main reason was of course to watch Coy perform live.
I was very surprised when they started playing. They were supposed to be the last of the bands, but they had switched places with the band before them, and I didn't recognize Nejra on stage, since she's now a blonde. It looks good, but is confusing – I've only seen photos of her with her dark colours.
The set was great, the audience loved it, and it made me think the whole event should be renamed Why the hell are Coy not signed? They might as well skip the other bands. Not that they were bad – some of them were actually quite good – but they lacked originality and emotion.
It was great to get to hear some new songs. Now I wait for their next album. And that record deal that should be just around the corner.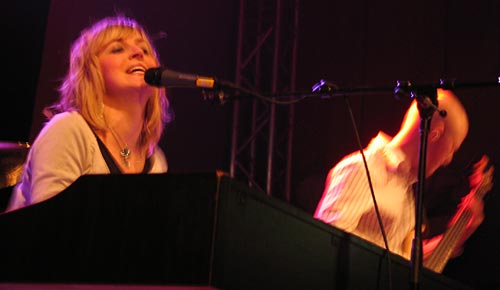 Archived comments from my old publishing system:
Sara from Stockholm writes:
Was there,just loved it!Simple as that=) Nice pictures..
M-o-m: 7 – 2004-11-29 22:44