Mouse arm problems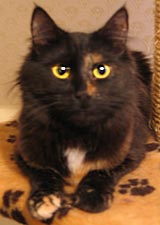 I've been suffering from mouse arm problems the past week, so I've avoided sitting in front of the computer as much as possible. Luckily I had taken time off for me and K to go to Skellefteå to visit Kurt and Cathrine. We've had some nice days playing cards and other games, eating good food and also we got treated to a local show which was fun.
For the first days I couldn't move my right arm at all without screaming from pain, and my shoulders and left arm were sore as well. Gradually the pain went from unbearable to a soreness in the right arm as well. I still dread having to work tomorrow.
There's a storm in southern Sweden, at some places developed into a hurricane. I hope the heavy gusts haven't made their way up to the Stockholm area, since we're flying back home in a few hours.
2005-01-11: Added a pic of Kickan, Kurt&Cathrine's cat.
Archived comments from my old publishing system:
Lotta from Stockholm writes:
Har problem med att svenska tecken gör så att kommentarsfunktionen inte funkar. Detta är m a o ett test för att se om vi lyckats lösa det.
M-o-m: 5 – 2005-1-11 19:59

Lotta writes:
Hurra!! ÅÅÅÅÅÅÅÅÅÄÄÄÄÄÄÄÄÄÄÖÖÖÖÖÖÖÖÖ :-)
M-o-m: 5 – 2005-1-11 20:0

Lappen writes:
Attans klammig katt vi ligger inne med!
M-o-m: 5 – 2005-1-13 8:49

Jinge writes:
What? Mouse Arm? But You have two cats, cant they help You? Np, it´s har to read the comments Lotta!
M-o-m: 4 – 2005-1-26 11:29