Some more thoughts on Bloggforum 2.0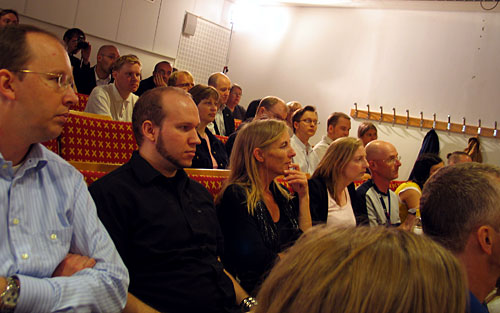 Some more thoughts on Bloggforum, 24 hours later:
Here are my photos from Bloggforum. A lot of cameras, dictaphones, cellphones and video recording equipment were used. So far I haven't seen much of the result, apart from Steffanie's podcast.
Podcasting seems like an interesting development. The question I meant to ask at the end of the debate, but which there wasn't time enough for, was "What about interactivity?". Nothing was mentioned about two-way communication, the thing that is so great about blogging. I've noticed that some podcasters ask for audio comments to be mailed in the mp3 format, and then they'll includ them in the next podcast. But does that actually happen?
The blogging phenomenon is still new in Sweden. We're still at a level where questions about the definition of a blog are raised. Personally I'm not sure we need such a definition.
Media and bloggers are interested in eachother. The blogging hype has made traditional media to wake up. SVT 24 was there to film the debate. I don't have access to SVT 24 myself, but the program will be on their website.
When I entered the doors of JMK I was taken ten years back in time. There's a special smell in the stairway. I had forgotten that.
Here's what a bunch of other bloggers had to say on Bloggforum 2.0:
David Magnusson: Bloggforum 2.0
Jonas Morian: Rapport från Bloggforum
Sanna: Post Bloggforum
Frihetens vingar: Tankar om Bloggforum 2.0
Lisa Falk: Dagens bloggforum
Annica Tiger: Personliga funderingar runt Bloggforum 2.0
Mats: Bloggforum och en ny bokblogg
Feel free to add your own link to your post about Bloggforum using the comments function.
I filmed some 180 second sequences of the debates (a time limitation in my Canon G5). What I've got now are some pretty chopped up chunks of bad quality film material. I need to find a good and simple program to edit them in. Raymond from Blogsoft suggested I'd have a look at FreeVlog and videoblogging.info for starters.
Archived comments from my old publishing system:
steffanie from bandhagen writes:
We had prepared talking about feedback and interactivity which as you say definately is an important part of blogging and podcasting, but I had to skip that because everybody on the panel spoke so long!
M-o-m: 5 – 2005-5-29 20:59

Bengt from Tyresö writes:
There is an excellent Speakers Corner at Podcasting.se called Openmic Where one with a telephone with ease can make their own podcast. With Skype its really good. Here is also an option to invite someone and interview them on Skype and let openmic record your interview.
M-o-m: 5 – 2005-5-30 12:53

Bengt from Tyresö writes:
Skype can also be used as feedback. Since you then it is simple to get in touch with people…you can even then record the conversation and podcast the feedback…(don´t forget to tell the person you are recording and ask for permission to air it of course) But feedback is certainly possible.
M-o-m: 5 – 2005-5-30 12:54

Lotta from Stockholm writes:
Steffanie and Bengt, thanks for your clarifications about podcasting and interactivity. I''d like to try podcasting, but I don''t think skype or the phone service is for me. I have to give it some more thought.
M-o-m: 6 – 2005-5-31 0:20

Bengt from Tyresö writes:
There was a comment on advance blogging asking for a Instructions for beginners podcasting. I think i will make one. It will probably be an presentation with a podcast. Simple podcast for everyone.
M-o-m: 5 – 2005-5-31 0:27

Lotta from Stockholm writes:
That''s a great idea, Bengt. Looking forward to it.
M-o-m: 5 – 2005-5-31 9:59