Liverpool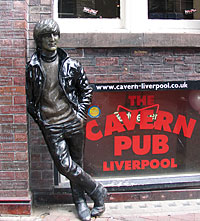 The Liverpool trip turned out really well. Well organized, nice people, interesting discussions and a good amount of writing. We stayed at the International Inn, a hostel of almost Swedish quality with nice sturdy wooden bunk beds. We got the whole dorm to ourself (six beds, five people) apart from the last night when one more girl was in the room. It was really nice to meet the others, especially those I haven't met before, and only have online exchanges with.
Kristina and Erika we met already at Victoria Coach station, where they were waiting for the same coach as Gitta and I. They both live in London.
On our way up we had an interesting driver called Bev. The four of us decided to write about her and her life. Afterwards we compared stories and had a good laugh. I still wonder whose story was most like Bev's real life.
Professor Linda Archibald was our host, together with Jane Ahlstedt who's in the course but also works in Liverpool temporarily. They had done a great job planning different activities for us, and also picked good pubs for the evenings. :)
Liverpool is a good size town, big enough to be interesting, small enough to cover in a long weekend. It would have been nice to have an extra day, though, and do some things on our own.
Friday night Gitta and I found a rock bar with some local bands playing. It's little things like that that gives the flavour of a place. People seemed very friendly.
Also there were quite a lot of second hand stores, which I like.
At the end of the trip we spent a day and a half in London, where the main focus was shopping, mainly at Petticoat Lane, but there was also time to meet Anders over a beer.
It was a trip full of early mornings. I think the latest I slept on any one day was 8.30. Not exactly vacation… but a nice break from the everyday work week.