Midsummer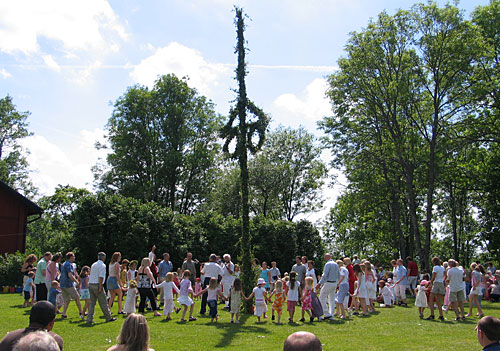 Just like last year we celebrated Midsummer's Eve at Tolvmansgården in Rimbo. The weather was great, almost too hot. When we got there the dancing around the pole was almost over. For non-Swedes I suppose our Midsummer traditions require some explanation. You can find it here, here and here.
People were sitting about everywhere on picnic blankets, boulders, chairs or simply in the grass. The queue to get a cup of coffee was ridiculously long. Luckily we had had coffee at Irmgard's before going there.
The same folk dance group that performed last year was there this year again. I filmed some of their dances, thinking this might all be gone in a hundred years. The dancers are getting older, and young people are not that into folk music or dancing.
Later we went to Mörby castle ruin, just outside Rimbo. There was some event at the ruins themselves, so we couldn't enter, but we walked around in the sunshine, looking at flowers, animals, the blue lake water and the ruins seen from outside. A lovely day.