At Carl & Barbara's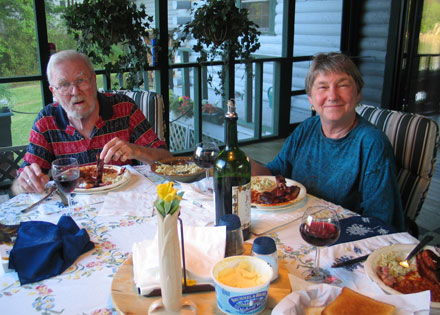 We wake up to all the new sounds, the birds of Diamondhead going off like alarms in the early morning sun. Mother mistook one of them for a ringing phone yesterday, and I still don't think she's quite convinced that it isn't.
We've been in Hot Springs, Arkansas for two nights now, arriving Friday night after 24 hours' travel, exhausted but happy to breathe the humid and warm night air when we stepped out of the terminal building. A sure sign that we're on vacation.
Carl picked s up, and after a slight confusion as to where he had parked his car – he'd parked it in a handicapped spot right in front of the terminal building, but when we got out it wasn't there (it turned out there was another short term parking lot on the other side of the building, and we'd gone out the wrong way) – he took us for a one hour drive through thick forrests, the road twisting and turning up and down little hills.
He and Barbara has a very special house just by a pretty lake in a gated community on the outskirts of Hot Springs, called Diamondhead. It's a one floor log cabin, and the porch reaches almost all the way to the water.
Barbara was away 'til last night, so we spent most of yesterday indoors, talking to Carl and relaxing. It was raining heavily, and the weather alarm system went off, warning that the weather conditions meant here was a risk of an upcoming tornado. But the warning was for further up north, so we were told not to worry. Just in case, Carl told us to get into the master bedroom closet if a tornado actually struck.
We sat on the porch listening to the rain and watching the canadian geese chasing eachother (it's mating season), the squirrels running around, the blue heron majestically sailing the sky. We also saw a couple of animals that were new to us – a beautiful red bird: the cardinal, and the cutest little creature that lived right under their porch: a chipmunk.
Barbara's my mother's second cousin, born and raised in the States. She's an artist, photographer, and the house is full of her beautiful photos. She and her husband Carl haven't changed a lot since we last saw them 18 years ago, when they lived in Frenchtown, NJ. Carl is 84, looking and acting 65. Barbara is one year younger than my mother. They have a great sense of humour and lead an active life, often doing volunteer work and being on different committees and things like that. Carl is the chairman of the unitarian church in Hot Springs. More on that later.