The hot springs
It's 30 degrees Celsius, which is just weird on May 1, but of course a nice change from our first day here.
Barbara equipped us with hats and water bottles and took us downtown today, to the historic district where all the bathhouses are.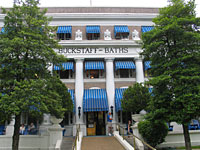 At the visitor center we were told the history of the hot water running down Hot Springs hill and how the town developed around it. Way back in the 19th century the springs attracted visitors who came for medical reasons, believing the hot water could cure them. Today only one of the bathhouses remains open, and people go there to relax and rejuvenate. We might take the baths another day.
Most of the springs are locked up today, the water being led into big tanks from where it's channeled to the bathhouses and hotels, and also to the tapping station where anyone can fill their water bottles. Barbara and Carl only use spring water for drinking water.
A couple of the springs are open, so that people can see what they used to be like. I felt the water, and it sure was very hot.
For lunch we ended up at a Mexican/Cuban place where I had delicious enchiladas without the slightest bit of cilantro in them. Great!
Then off to Starbucks for a tasty latte, and on to Wally world where I got separated from mom and Barbara and shopped on my own. I bought some stuff for jewelery making. I thought I'd give it a try. Wal-Mart is good for fairly cheap arts&craft stuff.
Also: ziplock storage containers, silicone pot holders, bottle buddy (insulation to keep a 12oz bottle cool), a catnip mouse and razors.