Vacation with creative impulses
Like I mentioned in my Swedish post, I'm on vacation. A week has almost gone by. One good thing with having quite a bit of time on your hands is that you start getting creative ideas again. I've missed both writing and other creative fields, but simply haven't had energy enough to keep it up during the spring.
Now I've started some paintings and have bought material to paint on glass. Not sure anything will come out of it – I'm immediately struck by my own limitations, but I'm trying to ignore them and have fun with it. Not completely succeding, but I'll keep trying.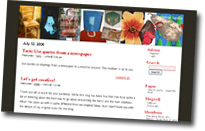 Finally I've got the creative tasks blog going. If you're interested in creativity, please stop by. Maybe even become a member?
The blog is made up of creative challenges. So far only my first post – use clippings from a newspaper in a creative project – but more will come. And you can contribute with your own tasks too.
The idea is that you solve the task and present it in your own blog, trackbacking to the creative tasks blog so that others can find your solution.