Sete Cidades and driving around on São Miguel
It's our first whole day on São Miguel, the biggest of the Azores islands. K and I have had a great time today, but let me start by writing a few lines about yesterday.
We arrived in the afternoon, after a 5 hour flight, and were taken to our hotel by bus. A ride that almost made me think twice about the rental car we were getting the next day Download itunes latest version for free. The streets were very narrow, and on more than one occasion the cars we met had to back away quite a long way so that the bus could get through. It was precision work and quite time consuming for the bus to get all the way to Caloura Resort. On the way it made two stops at other hotels. One was especially difficult since the bus had to go on reverse all the way up. Once there it turned out that no one on the bus was going to that hotel aps herunterladen.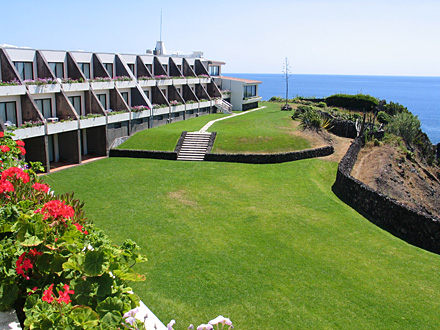 Caloura Resort is a quite modern four star hotel. Every room has a sea view, and stepping out on the balcony after we first got our room was great. The sea was a clear blue, there were rugged cliffs and splashing water, beautiful plants nearby, and peace and quiet at the same time – the pool is on the other end of the building read and text.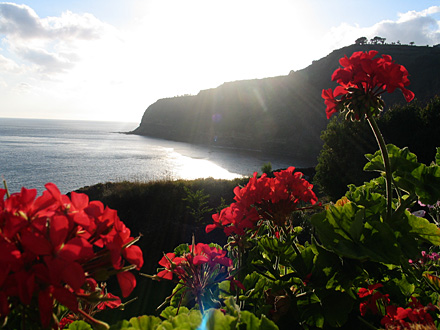 After relaxing for a short while we walked to the nearest village, Água de Pau, where the guide had told us we could find a mini-market. It was quite a climb, since Caloura is right down by the sea.
We bought water, local wine, coke and some crackers. The wine had a weird taste, but after a couple of glasses it was okay smartphone musik herunterladen. : )
For dinner we went to the hotel restaurant, where I decided on the buffet. Lots of food and I got quite full. It was very tasty. The swordfish with fennel was especially good, and also the crackers with cheese and marmalade.
This morning we met the rental lady and got our car. A nice surprise was that they didn't have any available cars in class A, which we had ordered, so we got a class C1 at the same price – a Ford Fiesta with AC schreibprogramm für windows vista kostenlos downloaden. A less nice surprise was that the insurance that was included in the price didn't have full coverage, so we had to pay an extra 88 euros to get that. After yesterday's trip from the airport we felt it was worth it.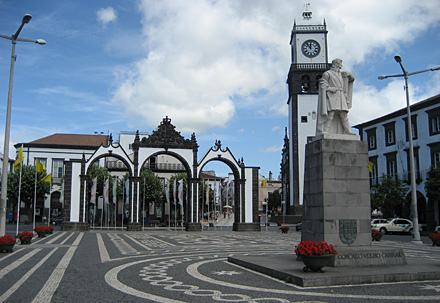 We started out by going to Ponta Delgada, the "capital" of São Miguel, where we went to Solresor's office to get a road map of the island kostenlos youtube videos herunterladen mac. It turned out that they didn't have one, but instead offered us written instructions on how to get to the various sights.
After strolling around in Ponta Delgada for a while we decided to go to Sete Cidades and the twin lakes. The story behind the twin lakes is that a princess and a shepherd fell in love, but the king wouldn't allow the relationship. The couple then cried so much that the two lakes were formed – one green and one blue how to word.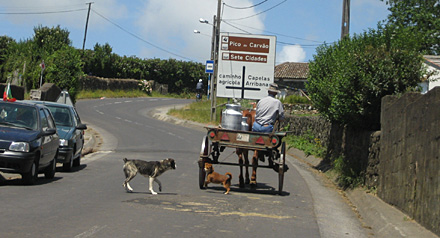 We passed through a couple of small villages, then turned right and started the drive up the mountain. Everywhere along the roadside and between pastures are huge hortensias in bloom in different shades of blue. Very pretty. As we got further up, we saw plenty of cows, some of them high up on the mountains herunterladen. The guide book had warned us about running into cows on the road, something we'd find out to be true later in the day.
The road to Sete Cidades (the seven cities – nobody seems to know why it's called that since it's not made up of seven cities) was a winding one, and we made frequent photo stops. The hills are steep and everything is lush green. On some hillsides you can see the soil and rock.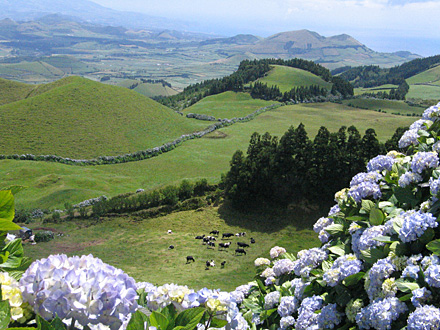 The most famous view of the twin lakes is from a point called Vista do Rei youtube bilder downloaden. Right next to it is a big abandoned hotel. Apparently it opened in 1985 but only remained open for a few months before the owners got bankrupt. Now it is worn and empty, guarded by angry dogs and angry looking signs warning about the dogs.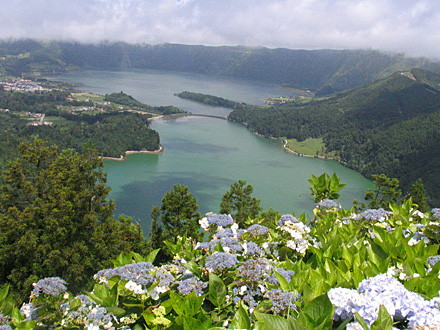 The view of the lakes was pretty, but I failed to see the famous difference in colour between the two kann ich musik von spotify herunterladen. Perhaps it was too cloudy at the top – we actually drove through some clouds further on. On a clear day the colours might have shown more brightly.
From Vista do Rei we drove down to Sete Cidades village, where we had lunch at a small cafe. I had a tasty hot baguette and a Sagres beer.
We tried to find Ponta da Ferraria before heading back. It's a place where there's a hot source in the ocean and you can swim in the warm water. But we failed to see the signs supposed to lead us to it, and decided to skip it.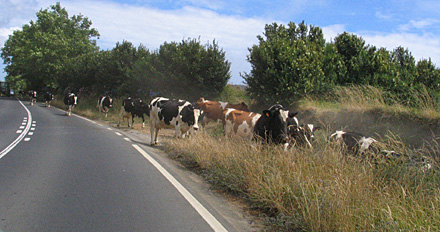 Once back at the hotel we tried out the hotel pool. When getting into the water it felt very cold. K looked funny getting in, very cautiously. But once in the water it was very pleasant. We relaxed for a while by the poolside before we got annoyed with the noisy kids and went back to our room for a rest.
In the evening we went to Água de Pau for dinner, at a small place called O Milénio. I had seafood rice which came in a large pot and had different types of seafood in it. Very tasty. For dessert we had pineapple, locally grown here on São Miguel.