The element of surprise being filtered away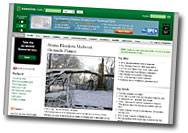 Calvin Tang, co-founder of Newsvine, a site where users can trail their reading habits and get filtered news which they then can discuss with other users, puts his finger on the problem with filtered news in an interview in Online Journalism Review.
People like to discover things that they might enjoy reading but they didn't necessarily know that they would before they were exposed to it.
Yes, that's what newspapers have been good at for centruries – surprising people. If in the future all we get is news filtered through keywords of our own choice, where's the surprise? Where's the fun?
Exactly how Newsvine will work to bring users these surprising news remains to be seen.
Tang also thinks there are certain news stories that should be displayed to everyone, disregarding their filters. This is how they've solved that at Newsvine.
We think that bringing you the top news is one of the important things. That's why we present our site with traditional media content right next to citizen-generated content. We don't favor one or the other. We think that they are complementary in many ways.
The site's users are no longer only the early adopers, Tang claims, which is interesting because it shows a readiness for citizen media and web 2.0 news services that means the big shift is just around the corner. He also states that the newspapers who will mix citizen media with traditional journalism will be the winners.
I think that eventually all traditional media companies will have to rely on some form of citizen reporting, partly motivated by financial reasons but also because of access. While the quality of reporting from the average citizen is typically of a lower 'quality', in the traditional sense, I think that this is offset by the timeliness and unfiltered nature of accounts offered by citizen media.
So far the site has been all text, but Tang reveals he's just signed a deal to bring video to Newsvine.