Citizen Media Watch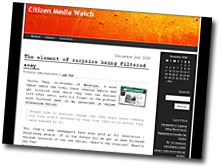 I guess I should mention here that I've started blogging about citizen media/citizen journalism. I wanted to do it without announcing it to anyone for a couple of weeks, just to get into the flow, but of course that's not possible when you link to other blogs. Beta Alfa soon caught on, and I've seen my posts on Knuff even though I don't ping Nyligen.
The blog is mainly a way for me to collect all the interesting things I read in the citizen media field, and to have a space where I can write down thoughts and ideas these things inspire.
There aren't many blogs in Sweden focusing on citizen media, though a bunch of them write about it from time to time. Most of them in Swedish though.