Johan Jernemalm – Aftonbladet's "citizen photographer of the year"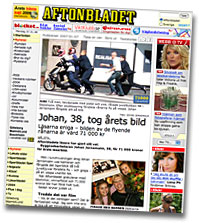 From the thousands of citizen photographers sending their photos to Aftonbladet in 2006, eight finalists were selected. The readers got to decide which one of them were to be named Citizen photographer of the year. The winner is Johan Jernemalm, a 38-year-old who happened to witness a robbery at Stockholm department store NK. He heard gun-shots and quickly got out his pocket camera only to see the robbers trying to escape on a motorbike.
"It felt unreal and looked a bit funny at first, two men running with security guards at their heels", Jernemalm told Aftonbladet. He didn't realize it was a real robbery, but thought it was a movie shoot.
The photos turned out good enough and a very happy Johan Jernemalm received the money, around 10 000 dollars, from Aftonbladet yesterday.
"And I'm not even good at taking pictures!", Jernemalm said.