Geotagging makes YouTube videos local at iCommunity.TV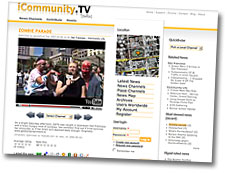 iCommunity.TV is a new mashup service of YouTube and Google maps logitech options herunterladen. As I predicted, geotagging will be big this year, and this is a good example, even if it remains to be seen how widely used the site will be – so far there are about 26 "place channels" which lets you watch video related to a certain city pdf programm kostenlos downloaden. Each videoclip is pin-pointed on a map. The geotagging and sorting into different news categories is done by the site's users.
It's interesting to see that the site has journalistic ambitions download black ops 4.
– We like to think of it as an experiment to further explore the potential of citizen reporting, says Chris Haller of eParticipation.com, the company behind iCommunity.tv download large smiley for free.
The focus is said to be local news, but there are also a bunch of entertainment/music clips with local connections. You can subscribe to the channels for different cities or news categories proton vpn downloaden.
From the front page presentation:
We believe that Youtube.com offers more than diet coke+mentos and the beer cannon. This website is dedicated to giving citizen reporting a video platform, by adding location to news footage hosted on Youtube and distributing it through various local news channels download iphone 6s ringtones.