Swedish citizen journalism/activism wiki launched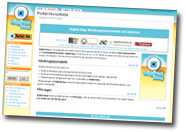 Today Oscar Swartz launched his Swedish citizen journalism wiki, for which he's received funding from II-Stiftelsen. The name of the site is Digital Idag ("digital today"). The site is in beta, and its first project is a campaign – against the proposed FRA law that I wrote about earlier (also a summary of some blog posts here, in Swedish).
It's an interesting approach, as campaign journalism is a rather narrow field of (citizen) journalism, and along with Swartz' well-known views it brings an activist focus to the site.
Swartz writes (my translation):
Anyone who's passionate about the freedom of information and communication should go there and start filling it (the wiki) with information. It's a site for anyone who wants to be digital today, not tomorrow. Hence "Digital idag"!
Previous post on the same subject:
Oscar Swartz to set up citizen journalism wiki