Knossos and Heraklion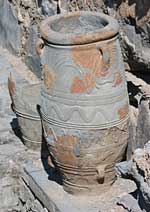 The problem with Knossos is that Sir Arthur Evans, the British architect who bought it at the end of the 19th century, had parts of it reconstructed, and in concrete at that. It's hard to know what's old and what's new. Even old pots have been mended and brought to a whole from the scraps and pieces found on the site. It helps you form an image of what things looked like, but it also feels a bit fake. How can you know they've done it right?
It's very hot today, so the guided tour was exhausting, and the juice we bought when it was done was 4€ a glass, but it was worth it.
Now we're in Heraklion where we've had an hour and a half on our own, during which we were supposed to have lunch. Since we hadn't worked up much of an appetite we settled for icecream instead.
Soon we'll re-join the group for a tour of the archeological museum.
Yesterday we went by local bus to Chania, a 45 minute ride on narrow and winding roads, the hillsides sloaping steep behind tiny or no barriers.
Chania is noisy with a lot of heavy traffic, but once you reach the older parts of town it gets cosy. It's all very tourist oriented of course, but if you're okay with that you can have a pretty good time.
I bought a statue of the goddess of victory at a local artists' center, and for mother a statue of a horse.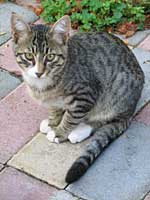 The three course meals at our hotel are good, so far. Not a lot of food, so my idea that we could skip lunch after having the buffet breakfast didn't quite work.
At dinnertime the cats come out and sit by the tables, silently asking for some leftovers.
Around the hotel there are a lot of olive trees. Sunday we went on an organized walk in the area, for about an hour. There are also a lot of fig trees, from which you can pick ripe sun-warm figs if no one is watching.