Home staging, low budget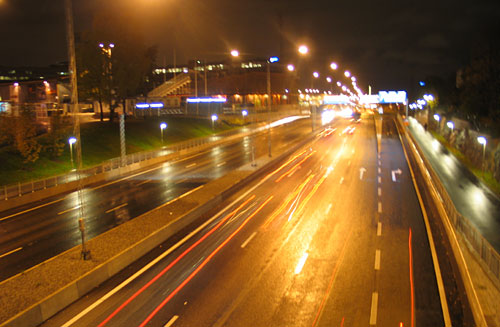 I got up at five this morning, unable to sleep. I had been twisting and turning for quite a while, then finally decided I might as well go to work.
Seeing traffic at night always awakens some deep longing in me. Is it the need to escape, to move on or to develop? I never quite understood it. I took a pause at the pedestrian bridge over to Globen and watched the cars for a while.
Having only slept three hours, the rest of the day's been spent in a half-sleeping state. But when I got off work I had to pull myself together. Time for the final preparations before the realtor comes to take photos of my apartment. Probably people will come to look at it this Sunday. This is all happening so fast!
I wanted to find a nice bedspread to cover the inflatable couch with, but didn't find any that I liked. Instead I ended up buying some very colourful cushions and a runner for the table. Atleast there's some color in the room now. But looking at the photos I took in the livingroom I can't help but think it looks like doll's house furniture. Or what do you think?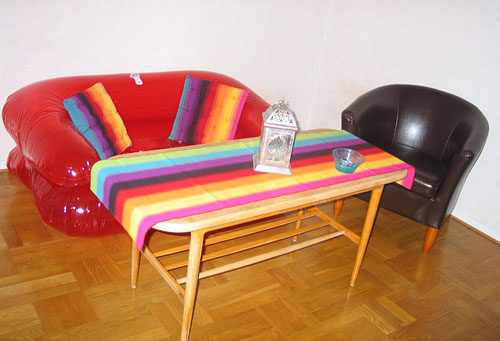 Here are the other photos. I'm sure the realtor will take much better ones, I just wanted to see what it would look like in photographic form.
Here's the realtor's description (added on Oct. 20)
It's so hard to know what people look for. All I can add is decorational details, but they seem to be very important. I read an article in Expressen on "home staging" a week or so ago (can't find it on the net). The idea is to turn your home into a stage, to completely change it to make it more appealing for buyers. In such a way "that the presumptive buyers can envision themselves in the rooms". Part of that is removing personal items. Well, atleast I've done that in my apartment – it was completely empty before I brought back these scattered pieces of furniture.
People pay big money to have their homes staged. In one example all the walls were painted, a new floor was put in and the company brought in furniture from their warehouse, to get the right look. This cost SEK 180 000.
I wanted to do the Friday Four each week.. but the historic theme this week didn't work for me. I didn't have anything clever to say, so I might as well shut up.
Archived comments from my old publishing system:
Fredrike from Stockholm writes:
I _love_ the picture of the cars, and I share your feeling of hard-to-describe longing when watching traffic at night. Even more so when I see ships coming in and going out at night. And I''m really tempted to buy your flat; it''s absolutely adorable. Although the inflatable couch is a bit over the top, but I guess that won''t be a part of the deal anyway. :-)
M-o-m: 6 – 2004-10-19 22:8

Lotta from Stockholm writes:
Not if Benny has a say. :-) I''m thinking of finding a nice throw to drape over it for Sunday, when people will come to look at the flat. I feel the same with ships too. Not only ships, come to think of it, but the ocean itself. Waves breaking and coming ashore in moonlight.
M-o-m: 6 – 2004-10-19 23:22

Fredrike from Stockholm writes:
I have a green throw that I don''t use if you want to borrow it. I think I have an off-white one, too, come to think of it. And green curtains and stuff… and lots of other things – paintings and framed pictures en masse. :-) Give me a holler if you want to check it out and borrow stuff tomorrow evening or Friday, I''m leaving for Amsterdam extremely early Saturday morning.
M-o-m: 7 – 2004-10-20 21:38