Time of damp and darkness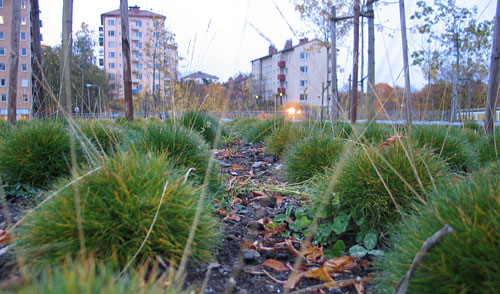 It's the time of the year when it's starting to get dark already when you get off work. There's moist everywhere. The wind pinches your cheeks. It's a damp and dull time. But then, the colours brighten up the scenery. Fall colours… some people consider autumn the best season because of them. I wish I could think like that, be positive. But for me, it's just dark, cold and damp.
But then… walking home from work, I see the wet cliff almost turned blue, laden with clear green moss, and flanked with green-yellow-orange-red leaves. It's a great season for photographers. I decide I am one, and feel better. Besides, it's an unusually mild day, not at all bad for walking. I find enjoyment in it, and my step meeter tics on. I don't get further than Björkhagen, though, since it's getting dark and I don't want to risk getting lost – I don't know my way around there.
Minor is a peculiar cat. No other cat I know likes to sleep or lye on her back, but she does it freequently. She looks lustful, unashamed, and enjoys my cuddling and massage, purring loudly. I caught it on a short film sequence, available for download here.
I met A after work. The usual updates – we don't meet that often anymore, so there's always a lot of catching up to do. Next week we might go to a play together though.
When I got home, Kurre and Ola were there. And, outside, my new car. Yep, I'm buying Kurre's old Opel Calibra from '92. K and I went for a test drive, and what a difference it was from my old Beetle!