Create icons for forums, blogs etc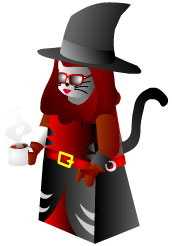 This is my MiniMizer icon – with a bite. Check out the site where you can make your own icons to use as avatars or simply display on your site or blog.
Common gettogether at KGB tonight. Frans was in town with a friend. Other commonists were me, Gitta, 2mU, Skrölle, Nicke and mawal. Had more karlovicke. This could turn into a – bad? – habit.