Insurance company uses social media site to put together travel insurance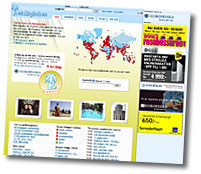 resedagboken.com is a social media site for Swedish travellers around the globe, mainly backpackers. It's run by Europeiska, an insurance company. They asked 2152 of the site members what they want from a travel insurance, and now they've created an insurance for backpackers, based on those demands. It will also be updated continuously when the community so desires.
According to Europeiska, backpackers have stated that they need the insurance to be cheap, cover riskful activities like mountain-climbing, diving and bungy-jumping, and to cover the journey home in case of illness.
In a press release, Europeiska's CEO Kenneth Sandén says (my translation):
– Resdagboken gives us unique insight into the habits of Swedish travellers. We know which countries the backpacker choose to go to, how long they're there, and what mishaps they encounter on their trips.
– Backpackers' needs are different from the ordinary travellers'.