Hej! 2007 coverage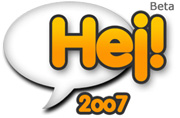 Tomorrow's Hej! 2007 conference in Stockholm will focus on web 2.0. I'll be attending the conference and will try to blog as much as I can, live, in texts and photos. Whether on this blog or on my personal blog will depend on how much relevance the subjects will have to citizen media. The photos will probably end up on my Flickr account.
From the description of the spirit of Hej! 2007 it sounds great:
We don't want it to be some stuffy old seminar where everyone sits for hours on end. We want people to talk, walk, mingle, laugh and cheer. Oh. And we really don't like suits. Jeans are cool. So leave your suits at home and bring that laptop and a healthy dose of enthusiasm and cheer!
Here's an article in Swedish on Hej! 2007 and the importance of credibility and trust as users come more into focus online. Eric Wahlforss and Alexander Ljung are "trust consultants", and two of tomorrow's speakers. They will talk about some of their experiences from a three month study trip in the US. Should be interesting.
Here's the list of all speakers.