Easter party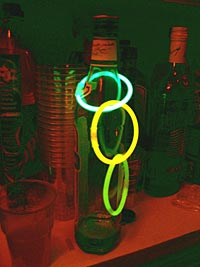 It's been a slow day at home after yesterday's Easter party at Majsan's in the old town. I went with Anna, Uffe's girlfriend, since Uffe wasn't feeling well and K is in Rome.
Fredrike had brought neon sticks which you break and then they shine in the dark. They went very well with Majsan's "porn" lights (red lightbulbs).
The bar was well stocked, and it was drinks galore. A bit too many, actually. :-) Well, I had a good time.
I also had a heart-to-heart with Anna. Rumour has it that we kissed. Hmm.
K called from Rome. So far he hasn't seen much, but was spending his time at the hotel reading a book. In some ways we are very different…
Archived comments from my old publishing system:
K som K writes:
Ja, inte ar han lik sin storebror inte! Det finns val manga pumor i Rom!! // Tutte lol
M-o-m: 5 – 2005-3-27 1:17

Kalle from Skarpnäck writes:
Tur det!
M-o-m: 5 – 2005-3-28 21:22

Kalle from Skarpnäck writes:
Jättetur, alltså!
M-o-m: 5 – 2005-3-28 21:23